Factors to Consider when choosing the Right Managed Services Provider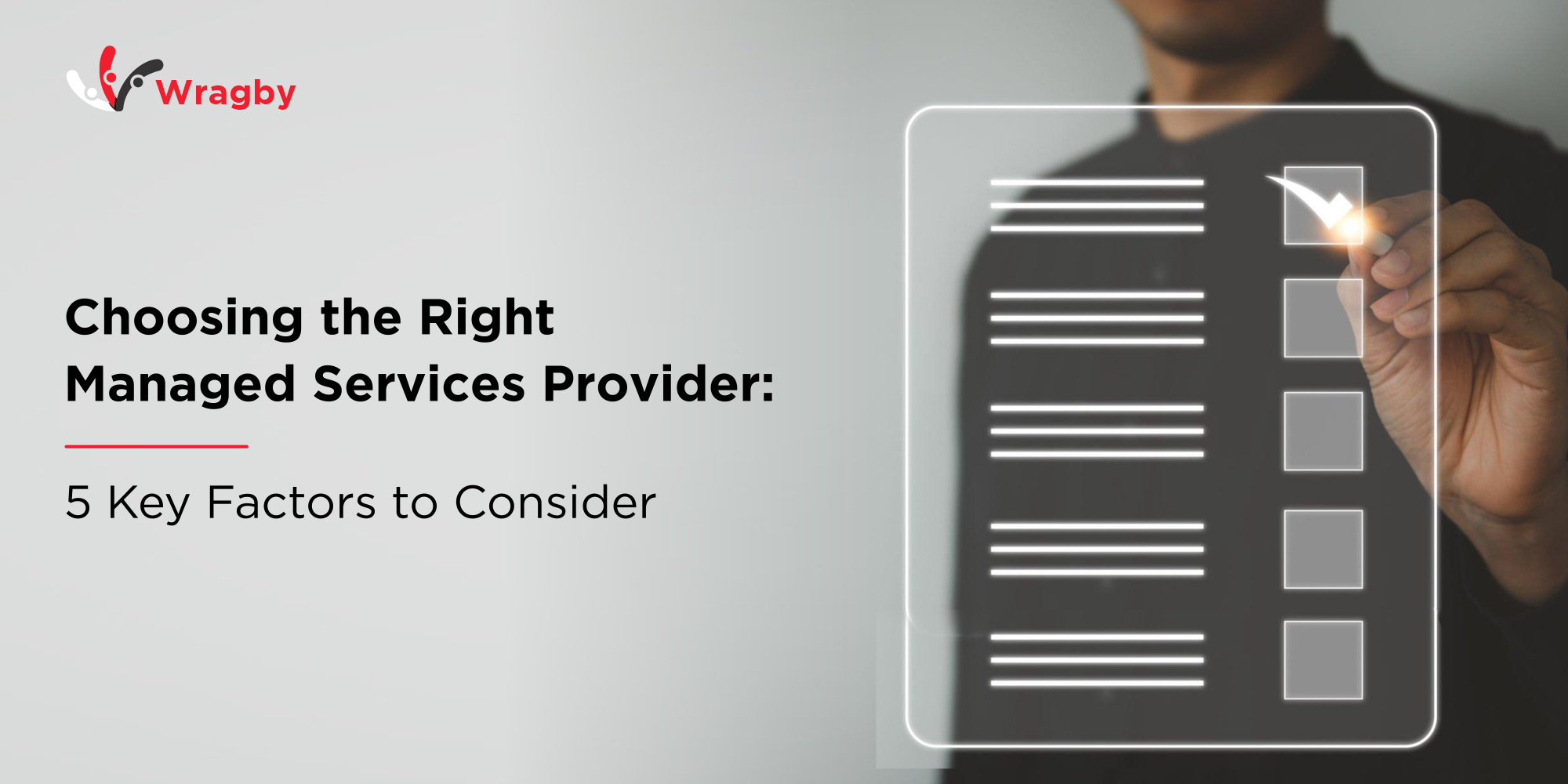 As the demands of modern businesses continue to evolve, the role of technology becomes increasingly critical. To remain competitive and efficient, companies need reliable IT infrastructure and support. This is where IT managed services come into play. Managed services providers (MSPs) offer a range of IT solutions and support services to businesses, helping them streamline operations, enhance security, and adapt to the ever-changing technological landscape. But with a multitude of options available, how do you choose the right IT managed services provider for your business? In this article, we will explore five key factors to consider when making this important decision.
What makes a good MSP?
Expertise in Managed IT Support
The first crucial factor to consider is the expertise of your chosen IT managed services provider. It's essential to look for a provider with a proven track record in delivering managed services within your specific industry. Their ability to grasp and address the unique challenges and compliance requirements in your industry can be an invaluable asset. A provider with a well-documented history of success in your sector is more likely to offer tailored solutions that align with your distinct needs. At Wragby, we proudly meet all these criteria. Our diverse clientele encompasses businesses from a wide range of industries, including healthcare, FMCG, financial services, and energy, among others.
Comprehensive Service Offerings
Businesses come in various shapes and sizes, each with its unique IT requirements. Therefore, your IT managed services provider should have the capacity to cater to these diverse needs. It's imperative to verify if the MSP offers a broad spectrum of services, ranging from fundamental IT support to the intricacies of infrastructure management. They should possess the capability to deliver a comprehensive suite of services, encompassing data management, security managed services, and IT support services. This holistic approach ensures that your business benefits from end-to-end IT solutions and support, alleviating the complexity of engaging multiple providers. At Wragby, we've built a service portfolio that spans a wide array of possibilities, positioning us as the preferred choice in Nigeria and Africa for businesses seeking to revamp their operations and drive transformation.
Scalability and Flexibility
As your business expands, so do your IT demands. It's vital to confirm that the MSP can adjust its services to match your evolving requirements. Seek out a provider offering flexible service packages that can accommodate your shifting business needs. Scalability and adaptability are paramount as they allow you to harmonize your IT infrastructure with your business objectives, ensuring that technology effectively sustains your operations.
At Wragby, our services inherently demonstrate scalability, a fact substantiated by the testimonials of numerous satisfied clients.
Robust Security Solutions
In today's digital landscape, cybersecurity is paramount. Data breaches and cyber-attacks can have devastating consequences for businesses, both financially and in terms of reputation. When choosing an IT managed services provider, make sure they offer robust security managed services. This should include proactive threat detection, vulnerability assessments, and a well-defined incident response plan.
At Wragby, we prioritize robust cybersecurity. Our comprehensive security services include proactive threat detection, vulnerability assessments, and a well-defined incident response plan. We stay updated with the latest security trends and technologies to keep your systems protected.
Cost and Managed Services Pricing
While cost should not be the sole deciding factor, it is undeniably an essential consideration. Managed services pricing can vary significantly from one provider to another. It's crucial to find an MSP that aligns with your budget while providing the quality of service you need. When assessing costs, consider the value you receive in return.
At Wragby, we understand the significance of balancing costs and quality. Our pricing structure is designed to accommodate various budgets while ensuring the delivery of high-quality services.
In addition to these key factors, you should also consider the MSP's location. Having a managed services provider nearby can facilitate faster response times and on-site support when needed.
In conclusion, choosing the right IT managed services provider is a critical decision for your business. It's a partnership that can significantly impact your operations, productivity, and security. By evaluating the provider's expertise, service offerings, scalability, security solutions, and pricing, you can make an informed decision that aligns with your business's unique needs. Remember, the future of managed services is evolving rapidly, and a well-chosen managed services provider can help your business navigate the ever-changing IT landscape successfully.
If you're in search of a trusted managed services provider, reach out to us today. We offer proven expertise, comprehensive solutions, scalability, and robust security to meet your IT needs effectively.